Outsource Data Processing Services
Outsource Data Processing Services has been proven to be an effective way to reduce costs while increasing productivity. Learn more about our outsourcing data processing services!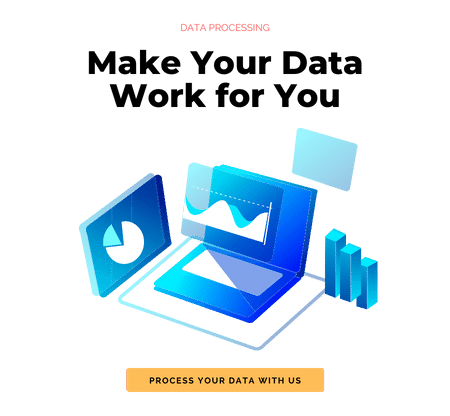 Outsource Data Processing Services
Data processing implies a process of converting any needed information into genuine formats for usable purposes, analysis, and reporting. It can be expensive to process data in-house. You may not have the necessary equipment or staff to process data in-house. And It can be difficult to find reliable and trustworthy data processing services. virtualousPRO's data processing services and solutions can help any organization retrieve, transform, or classify information, increase productivity and grow their business rapidly. We have a team of highly-skilled and experienced data processors who can handle any type of data, no matter how big or small. We use the latest technologies and software to ensure that your data is processed quickly and accurately. Besides that, We are very competitively priced, so you can save money by outsourcing your data processing needs to us.
What is Data Processing Outsourcing?
Data processing outsourcing is the contracting of a company's data processing and management to a third-party service provider. The service provider takes on the responsibility of hosting, managing, and processing the company's data. This can include anything from customer data to financial records. With outsourced data processing services, companies are able to cut costs while simultaneously getting better quality service. Not only does this save money, but it also frees up staff time that can be used elsewhere in the business.
Speak to our project managers about your business requirement: Just submit your contact details and we'll be in touch shortly. – Get a Quote
Have specific requirements? Email us at: support@virtualouspro.com. We respect your privacy. Our Policy.
What is a data processing services?
Data processing services is the outsourcing of a company's data processing needs to another company. This can include anything from data entry services and bookkeeping to more complex tasks such as data mining and analysis.
To help you utilize most of your business data throughout its life cycle, we enforce a comprehensive data processing program, which includes the following steps: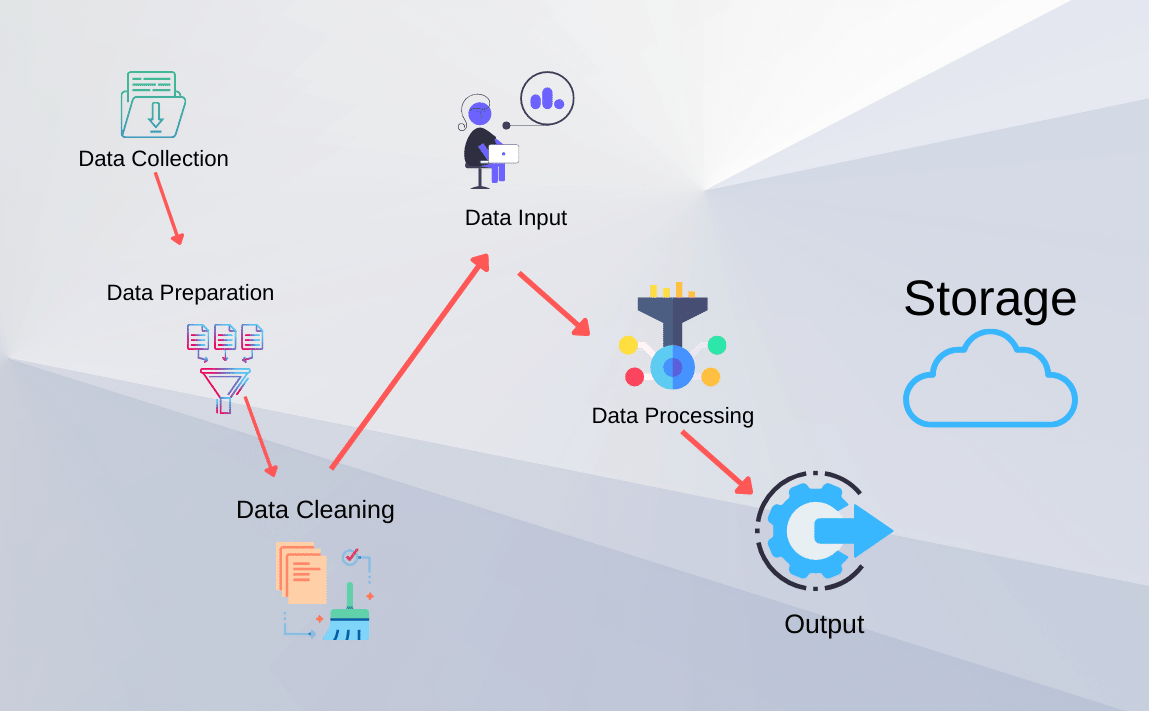 With the means of various sources, we at virtualousPRO take that raw data as input to produce information as output. Many businesses and firms are desperately in need of reliable as well as quality service providers.
As data processing is an essential ingredient in market research the companies utilize that information for increasing their revenue or for cutting down the price. The professionals at our firm present the data in a systematic fashion so that it is easy to understand, analyze and act upon.
Collect raw data from defined and accurate sources or
Use your existing data and enrich & validate them.
Sorting and filtering the raw data to remove unnecessary and inaccurate data or
Check for discrepancies, repetition, miscalculations, or missing data.
Similar to data preparation, data cleaning is the process of fixing or removing incorrect, corrupted, incorrectly formatted, duplicate, or incomplete data within a dataset.
Taking the raw cleaned data and converting them into machine-readable formats and fed into the data processing programs.
The raw data collected from different sources are now in the 5th stage of their life cycle. They would go through various data processing methods to generate desirable output.
After being gone through all of its 6th states, now the data can be stored securely for further use. 
Accurate and inexpensive data processing is made easy with our data processing services.
When you outsource data processing services, you can focus on your core business goals. With our experienced team of data processors, we take care of all your needs so you don't have to worry about it. Our clients come from a variety of industries that include healthcare, finance, education, government, and more. If your company needs outsourced data processing services, contact us today!
Our Outsource Data Processing Services
Benefits of choosing virtualouspro as your Data Processing Services outsourcing partner
Data processing is an important part of any business's infrastructure, but managing data processing in-house can be both difficult and expensive if you don't have the right software and hardware to do it quickly and efficiently. Instead of trying to manage this on your own, outsource data processing services to gain the benefits of speedy, affordable data entry that's fully customized to your company's needs. When you outsource data processing services, you can make better use of your time and have more time to focus on your core business functions. Here are five reasons why you should choose virtualouspro as your data processing services outsourcing partner!
Data Processing & Outsourced Services Company
Are you looking for affordable data processing and outsourcing services for your business? If yes, then look no further because we offer these services at very affordable rates. Our team of highly qualified professionals has years of experience in providing quality services to our clients. We provide high-quality services at low prices. We guarantee 100% accuracy and deliver within time frame.
We are a leading ISO 27001:2013 certified data entry company offering data entry and back office services to businesses around the globe. Our team of experts provides high-quality services at very affordable rates to ensure that your business gets maximum ROI from its IT resources.
Our team of experts offers guaranteed data entry and back-end outsourcing services to businesses around the world. We provide high-grade services at very affordable rates ensuring that your business gets maximum return on investment (ROI).
We use the latest technology and tools to provide high-quality and accurate data and analytics. We have 50+ in-house data processing specialists with 12+ years of experience who serve clients across different industries, be it healthcare, IT, or even legal we cover it all.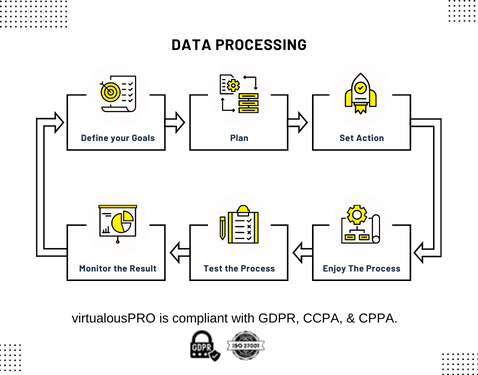 List of Data Processing Services
We are an outsourcing data processing services provider helping clients with a variety of perfect data processing outsourcing services such as the following –
virtualousPRO offers data collection services in a wide range of industries, including e-commerce, healthcare, manufacturing, retail, education, and financial services. By outsourcing data collection tasks to virtualousPRO, you can focus on core areas of your business and let us take care of data collection and data entry jobs for you. In the process, you get accurate and clean data in a quick and cost-efficient manner
Data enrichment just got a whole lot easier. Outdated and incomplete data at the center of your sales and marketing workflows is messy. Let our team be your data buddy for b2b data enrichment.
If you are looking for a professional data conversion company then you should consider virtualouspPRO as one of your top options. With years of experience at converting and managing data, we can help you convert your data into any number of formats to meet your needs.
virtualousPRO offers a wide range of word processing and formatting services, aimed at supporting business owners in gaining easy access to well-formatted and processed documents.
We will help identify the right decision makers and grab their contact's email and phone numbers so your sales team can easily contact them. Empower your sales marketing teams to connect with the right decisions makers directly, using the most accurate and up-to-date emails, phone numbers, b2b contact data, and social media links.
virtualousPRO is one of the leading B2B List Building & B2B Contact Database Services providers trusted by businesses in the US, UK, Canada, Australia, Netherlands, and other parts of the world to be their consistent provider of high-quality B2B Contact Database Services.
Looking for data cleansing services? virtualousPRO is one of the registered data entry companies in India that provides high-quality cost-effective data cleansing services to clients around the globe.
Are you looking for document digitization services? Then you have come to the right place. virtualousPRO provides the most reliable, secure and low-cost document digitization services which include digital conversion of mail lists, legal documents, rebates, data processing, statements, bills, invoices, data entry from images and PDF files, working with spreadsheets and databases, data cleansing, and de-duplication, copy-paste tasks, editing and sorting of data at an affordable price. As low as $5/hr only.
virtualousPRO has been offering data entry outsourcing services to businesses across different industries since 2010. Our state-of-the-art operations center based in India provides top-notch data entry outsourcing services and a wide range of data processing services including data enrichment, data digitization, data validation, data annotation, and content moderation in 10+ languages We're trusted by big companies to handle sensitive data and deliver high-quality results on time.
Trusted By These Mega Brands